Proline Challenge Race Report - ACT Canberra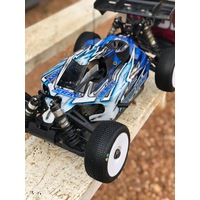 XRAY Dominates at the NSW PROLINE Challenge - ACT Round
The ACT facility is one of the best in Australia and the Track Layout and Surface is awesome! Track was grooved within the first 2 hours and just got better and better.
EP8 ran 7 Minute Qualifiers and 3 A-Mains
Shane Reid took TQ Lhor and Michael Stone in 3. It was a 2 way battle for the mains as Lhor has Gear Mesh issues. Shane had a nice lead after Michael had a long crash, but once Mic settled in he was able to crawl back the 10 Second gap to the Shane, taking the lead on the last lap and the win in A1. A2 was almost a carbon copy, but with a smaller gap this time around. Michael was able to take the lead with a couple of minutes to go and bever looked back.
2nd Shane Reid - HB
3rd Austin McMahon - Mugen
4th Cary Davies - Mugen
5th Christopher Wilson - TLR
6th David Foord - Tekno
7th Peter Combes - Soar
9th Richard Bagguley - AE
10th John Kelly - Tekno
11th Matthew Kemp
12th Paul Skinner - Mugen
13th Tristen Cupit
14th Dean Gerard - Tekno
15th Lhor Chaichanachimplee - HB
GP Buggy was also a 2 horse race, Ari Bakla picked up TQ after winning all 3 Qualifiers, local fast guy Shane Kelly had some super fast lap speed and was Q2 with Craig Laughton in 3rd. Ari pulled a little gap but would be closed after the first pit stop, for the next 25 minutes Ari and SHane were never more than 2-3 seconds apart, switching the lead until Shane had a large crash in one of the worst areas of the track for a Marshal to get too. This gave Ari a large lead which he would protect and cross the line with the win.
---
Leave a comment